The saying "It takes a village" certainly applies when raising dogs to their highest and best potential. Field Bred Cockers is managed by two families in three locations.
Jack Walker, nurse wife Alicia, and three kids Ella, Pierce, and Beckham live on land between Bend and Sisters, Oregon.  Growing up, Jack watched his dad Stephen Walker field trial English Pointers and be honored with one dog being placed in the American Field Hall of Fame.  This instilled the importance in Jack of strong genetics and superior training to produce a world-class dog. Jack founded Field Bred Cockers and is an avid upland bird hunter, former hunting guide, and is a private pilot in charge of running Leading Edge Flight Academy.
Gene and Vicki Barnhart split time between their home and our primary breeding facility 25 minutes north of Portland, Oregon and one of our training properties near The Dalles, Oregon.
Gene is our Lead Trainer with 30 years' experience training bird dogs at every level from amateur to professional.  "The hard stuff doesn't work" and "you can't leave a fingerprint on a dog" are two things we hear Gene say a lot to our clients.  Gene guided at Highland Hills Ranch for many years before running a large wingshooting operation at another Oregon ranch.
Vicki is Gene's wife and is masterful at breeding, whelping, raising and socializing our puppies.  There are few things Vicki has not seen or personally experienced in the dog world and we learn from her daily.  Vicki is wonderful at keeping up with our clients over the years and making sure all of her pups are continuing to thrive.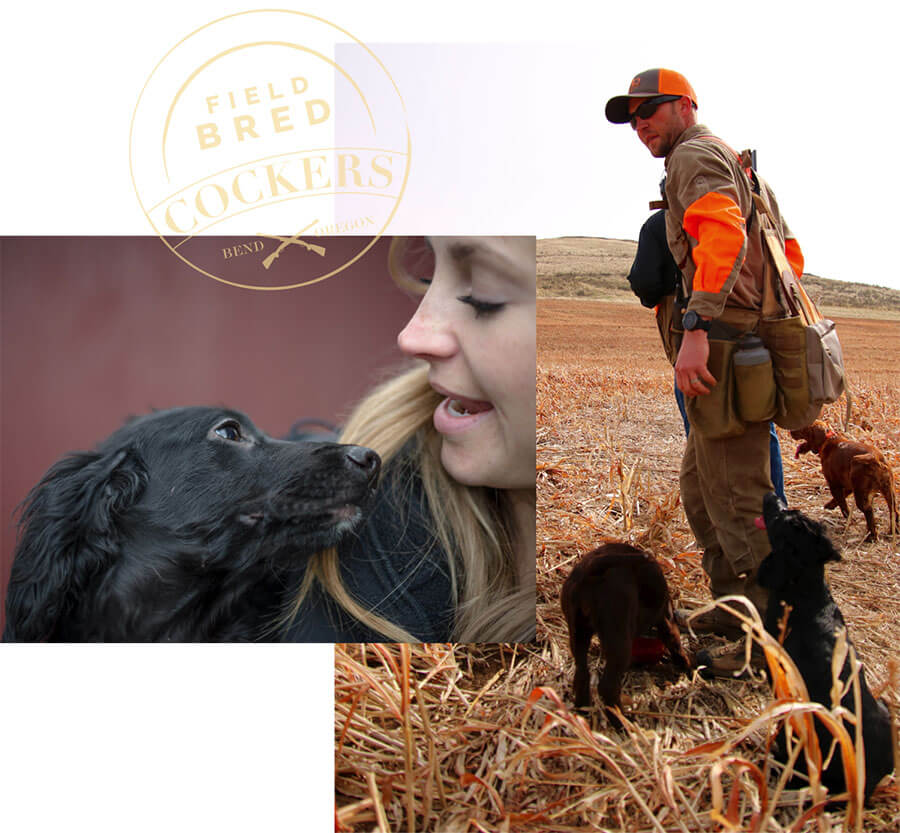 FAQs
Do I have to be a hunter to get one of your dogs?
No, we have many non-hunting clients that respect and want the strong health and intelligence characteristics of a field bred dog.  Typically our non-hunting clients are active and looking for an equally active adventure partner on the trail.
How energetic are your dogs?
Field cockers are filled with happy energy and always ready to go and please.  They need normal, regular exercise and are not meant to be inside-only companions  We personally use and encourage place training for the home.  This teaches your cocker when it's go-time and when it's time to hang out.
Do they shed and require grooming?
Yes cockers shed and we recommend grooming.  On an anecdotal, non-scientific shedding scale of 1-10 with a poodle being a 1 and a golden retriever being a 10, we would estimate a field cocker to be between 4-5.  We have our groomer give the dogs a "field cut" around four times each year to remove feathering behind legs, in between toes, and on undercarriage.  This is essential in Oregon for cheatgrass prevention!  ShowSheen is great to spray on after bathing or when needing to brush out a cocker after a muddy or thorn-filled day in the field.
How long does it take to get a field cocker from you?
Generally speaking, six to twelve months but this can vary with Mother Nature!  Due to high demand and cocker litter sizes being on average four to eight pups all our pups are sold long before they are born. Please fill out the information on our Talk to Us [hyperlink] so we can learn about your goals, timing, and get the process started for reserving your future pup, Super Pup, or Home + Hunt Ready field cocker.
What do you recommend for training?
Field cockers are very intelligent which is a great thing if trained well and a liability if not trained.  The best investment you can make is putting quality time into training your dog.  Many of our clients are successful doing the training themselves while others outsource to a professional trainer.  Whichever path you ultimately choose, the importance of the training investment is nonetheless the same.  For clients doing training themselves we guide them towards the European spaniel methods and placeboard methods with many examples on YouTube.  For those wanting professional training, our internal and Lead Trainer Gene Barnhart is hands down the best there is and is.
What birds are good for hunting with a field cocker?
Upland birds are best suited for field cockers.  If they're in thick, heavy cover that's even better for a cocker.  "Cocker" comes from Woodcock which is an upland bird that lives in heavy cover just to give you an idea.  Personally we hunt our cockers on pheasant, quail, chukar and hungarian partridge and grouse.  Jump shooting the occasional duck and watching a cocker water retrieve is also fun but not our go-go.  We also have great success hunting cockers behind pointing dogs; this requires a cocker to be reliable at remote sit which we teach via placeboards.
What do you feed your cockers?
We feed First Mate Pacifc Ocean Fish Endurance/Puppy (https://firstmate.com/product/pacific-ocean-fish-meal-endurancepuppy-formula/) year-round to our dogs including puppies and pregnant females.  This food is a 28% protein, 16% fat which is a great balance between performance and maintenance foods.  The company is great, family owned, zero recalls and the food is the top-notch in terms of ingredients and process.  Plus the dogs absolutely love it.  On average our adult cockers eat 1/2 cup in the morning and 3/4 cup in the evening of this specific dog food.
What products do you use and recommend your dog owners have on hand for their dogs?
First is high quality food (see above).  Second is a safe place to keep your dog and we recommend Ruff Land Kennels (https://rufflandkennels.com/) either medium or mid-size crate.  Third are placeboards and slip leads from Cato Outdoors (https://catooutdoors.com/) for training.
What is the lifespan and how much do they weigh?
Typically 12-14 years and between low-20 pounds to low-30 pounds.
My Aggie is the best dog ever. She is a hunting machine and a wonderful family companion. She is smart, loving and obedient, all I could ever ask for in a best friend!
~Jim Trolinger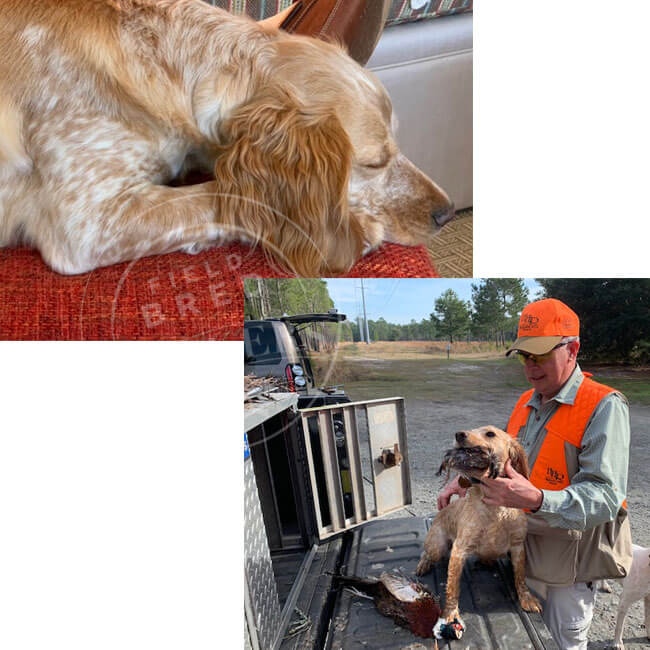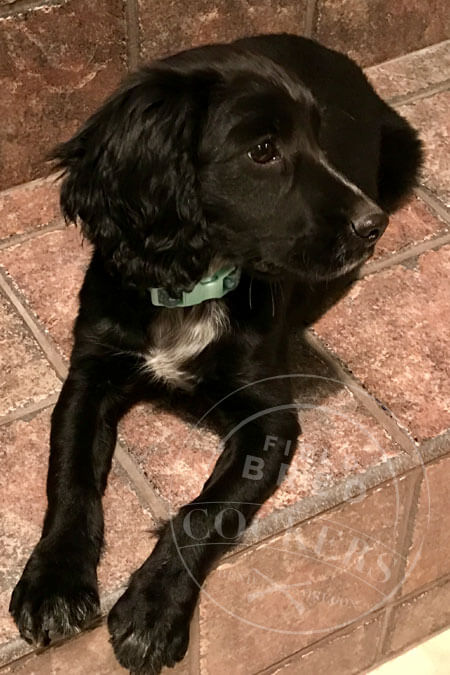 I purchased a hunt ready dog from Field Bread Cockers (FBC) in 2017.  I wanted to pick the color. Jack urged me to take the dog in his judgment was best suited for my needs (not the color).  He was spot on.  Our dog, Jewell, is the perfect companion, house dog and eager, aggressive and responsive hunter.  Their team socialized and trained her expertly.  The breed is extraordinary, of course, but the preparation Jewell received is amazing.  In addition, FBC is always available for follow up consultation and assistance. Terrific people and terrific cockers.
~Jonathan Harnish
Jack, I wanted to thank you again for Wheeler, our absolute dream dog. I've had many great dogs over the years, but Wheeler is truly the most special. We feel so lucky to have him. He has so many great qualities, and we are definitely a cocker family for life. We've never had a sweeter dog around kids. We have two girls, 3 and 5 who absolutely adore him. Your home hunt ready program really delivered!    Wheeler has been a blast to hunt on wild birds. I have loved watching him progress over the last year, now just getting started on his second season. Thank you for all your advice, knowledge, and for making the process so fun. I can tell you really love these dogs, and have such a passion for the Field Cocker.
Sincerely, Cameron
Merrill Palos Verdes, California